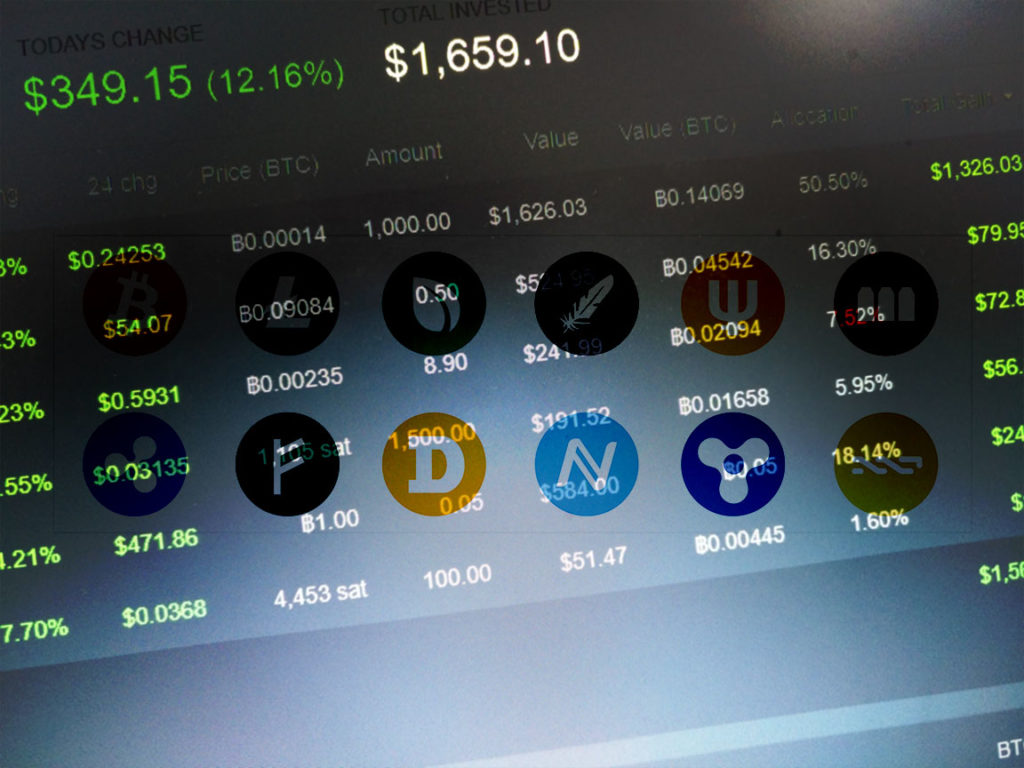 Track your cryptocurrency portfolio with coin.fyi
Bitcoin and other cryptocurrencies have massively increased in popularity lately. While I'm not one of the early birds, I do have some of my money involved in a few coins. In the beginning I created my own little website that used the API from the Thai exchange website, bx.in.th, and it showed you how much your investment was worth. I still use it, but it has some serious limits. Mainly, it only works with the dozen or so coins listed on the Thai exchange.
I then started work on a new version that would use the data from coinmarketcap, but during the early stages of development I discovered coin.fyi. As much as I love creating my own projects, I didn't see the point in reinventing the wheel- coin.fyi does everything I intended for my project and more, so let's have a look!
Getting Started
Head on over to coin.fyi and sign up with a username and password. Then I strongly recommend changing to the dark them using the little hamburger menu on the top right.

Add Your Coins

Now we need to add some coins. Start typing in the name of your coin and a drop-down menu should allow you to pick your coin easily. Also add the number of coins that you own. For my example, I'm going to say I own 1,000 XRP. After clicking "Add coin", it will show you some information such as the value of the coin, your overall worth and the 24 hour changes. There is one quick setting to change so that we can specify the price at which we bought it.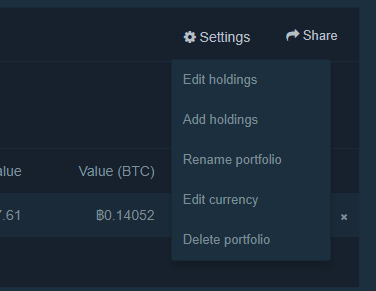 Click "settings" and then choose "Edit holdings".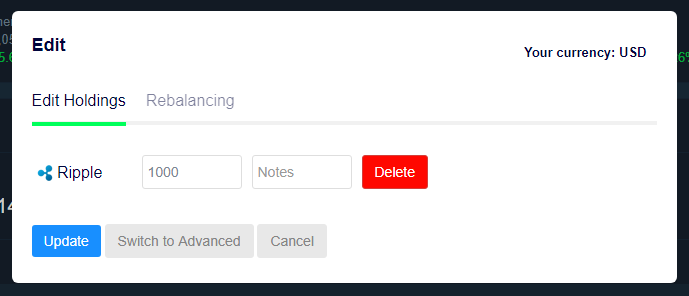 On the screen that pops up choose "Switch to Advanced".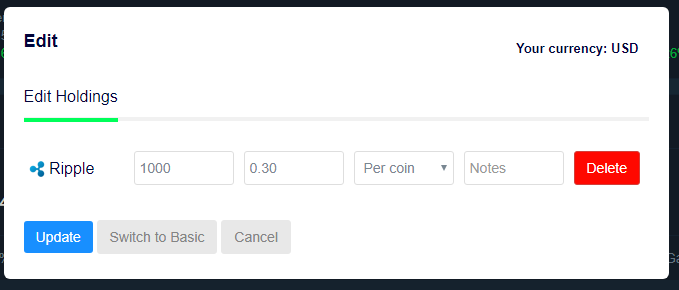 Here you can specify how much you spent to get these coins. For my example, let's say I got XRP at 30 cents per coin. You can also input how much you've spent totally, so in this case I could input 300 USD total for 1,000 XRP. This is up to you. Bonus tip: if you bought with different currencies you can change the currency through the portfolio settings before editing your holdings. That way you can also add or modify holdings in different currencies.
When done, click "update".
Add More Coins
If you own more coins, you can keep adding them the same way, although now, since we've switched to advanced, you can add coins and the price at which you bought them straight away. If you have different phases of buys or different holdings at various exchanges (or whatever other reason) you can create additional portfolios.
I'm going to stick with one portfolio and add a few more coins. Remember, what I'm adding is only as an example. With multiple coins in our portfolio we can click on the column headings and sort the coins. I like to sort them by how much profit I'm making on each, so I would click on "Total Gain" to sort them.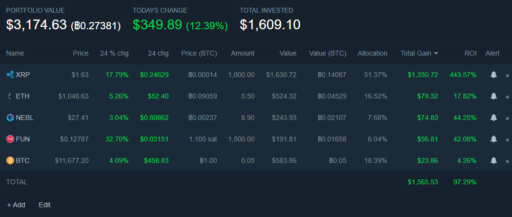 Look at that sample portfolio I've created! I wish my real one had this much green in it…
Extra Features
Coin.fyi has some great extra features. It gives you news based on your portfolio and watch list (add coins you are intested in but don't own). This website also works well on mobile devices but they also have Android and iOS apps planned for the future. A recently added feature is the ability to set up notifications based on preset triggers such as a coin hitting a certain price.
You just have to explore. I've given you the basics to get you started. Enjoy!